■programme
Vol.1 2013.1.10 19:00- talk & concert Aurélien Dumont
1 talk : Aurélien Dumont & Ryoko Aoki
2 Aurélien Dumont "Yamabushi no inori" for Noh voice and bass clarinet
(commissioned by ensemble-no 2013) (world premiere)
Ryoko Aoki (Noh voice) Takashi Yamane (clarinet)
■venue
5F Bird Room, SHIBAURA HOUSE
3-15-4 Shibaura, Minato, Tokyo, Japan
■ticket
Vol. 1 ¥2000
Tickets sale will start one month before the performance.
■inquiries
Tel. 03-6804-7490
e-mail.info@okamura-co.com
Noh × Contemporary Music - talk & concert series
presented by ensemble-no
supported by Minato prefecture grant for culture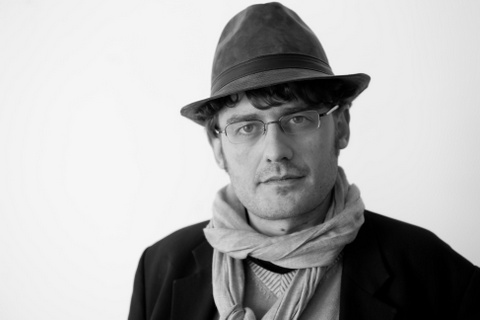 Photo: Philippe Stirnweiss
Born in Marcq-en-Baroeul (France) in 1980, Aurélien Dumont has obtained a master's degrees in art-therapy (Medical Faculty of Tours) and musicology (University of Lille). Then he was admitted to the Paris Conservatoire (CNSMDP) where he joined the composition class of Gérard Pesson. There he was graduated by a first prize for his piece «Himitsu no neya - short version», which received the Salabert Prize 2012. Greatly interested in musical technology, he has taken part of Cursus 1 & 2 (Composition and Computer Music) at IRCAM. He has won several international competitions and has received prestigious commissions: from the French State, Radio France, Ars Musica Festival in Belgium, Takefu Festival in Japan, Péniche Opéra, Maison du film court in Paris etc.
From 2012 to 2015, Aurélien Dumont is a PhD contractual at SACRe (Art Creation Science Research) in the new PSL University (Paris Science Lettres), where he deepened his thiking on transdisciplinarity and the emergence of new artistic's forms.
His musical theater "Grands Défilés" (directed by Frédéric Tentelier) was premiered at the Lille Opera in 2011. His works have been performed in festivals such as Ars Musica in Brussels (« compositeur découverte » 2012), Musica Strasbourg, Milano Musica, Ultraschall in Berlin (2013), Music Protocol in Graz (2013), Biennale Lyon (2014) and in halls like Kioi Hall in Tokyo, Cité de la Musique in Paris, Flagey in Brussels, or in Royaumont. In November 2012, a portrait concert is given by Ensemble KNM in Berlin.
Aurélien Dumont's music could be described as a temporal slide through a panorama of small landscapes where surprising musical objects coexist. The Japanese culture and contemporary poetry (including a long collaboration with Dominique Quelen) have been important influences on his work, characterised by an unconventional blend of theater and music.