■programme
Vol.2 2013.3.8 18:30-
talk & concert Vassos Nicolaou / Stratis Minakakis
1 talk : Vassos Nicolaou / Stratis Minakakis / Ryoko Aoki
2
Vassos Nicolaou "new work" for Noh voice, flutes and percussions
(commissioned by ensemble-no 2013) (world premiere)
Stratis Minakakis "new work" for Noh voice, flutes and percussions
(commissioned by ensemble-no 2013) (world premiere)
Ryoko Aoki (Noh voice) Ayako Okubo (flutes) Olivier Maurel (percussions)
■venue
5F Bird Room, SHIBAURA HOUSE
3-15-4 Shibaura, Minato, Tokyo, Japan
■ticket
Vol. 2 ¥3000
Tickets sale will start one month before the performance.
■inquiries
Tel. 03-6804-7490
e-mail.info@okamura-co.com
Noh × Contemporary Music - talk & concert series
presented by ensemble-no
supported by Minato prefecture grant for culture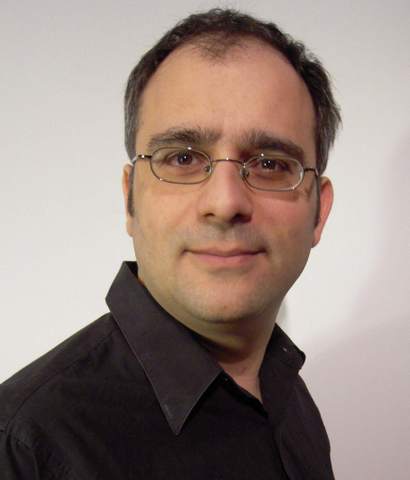 Vassos Nicolaou
Born in Cyprus in 1971, composer Vassos Nicolaou studied at the Academies of Music in Cologne and Frankfurt, the Paris Conservatory and at IRCAM, working with York Höller, Marco Stroppa, Marc-André Dalbavie, Philippe Leroux and Beat Furrer. Vassos Nicolaou has been the recipient of numerous awards and scholarships from institutions such as the International Ensemble Modern Academy, Herrenhaus Edenkoben (on recommendation of Peter Eötvös), Athens Megaro, the Weimar Academy of Music - (Franz Lizst Scholarship) and the Cité des Arts in Paris. In 2005 he was awarded the "Bernd Alois Zimmermann Prize" from the City of Cologne. In 2007 a jury which included Pierre Boulez and Wolfgang Rihm selected Nicolaou for the prestigious "Giga-Hertz-Special-Award for Electronic Music" and for the following two seasons he was a composing fellow at ZKM in Karslruhe. In 2008 he was awarded the Tremplin commission by the reading panel of IRCAM and Ensemble intercontemporain. In 2009 he was an associate composer IRCAM and creator-in-residence at Tokyo Wonder Site. In 2003 Kimata, commissioned by The Pharos Trust, was premiered by the London Sinfonietta. In 2007 Lie(a)n and Rituals were premiered by the International Ensemble Modern Academy and in 2008 Redshift and Recent by the Ensemble Modern. Ensemble intercontemporain premiered Réflexions in 2004 and Navigate for large ensemble and live electronics in 2009 at the Centre Pompidou. A further new work - Anima - has been commissioned and performed by the Ensemble intercontemporain in February 2010. In 2008 his work Orbit was performed at Ircam by Dimitri Vassilakis during the Agora Festival. In 2009 the same festival commissioned Otemo with live electronics that has been performed by the renowned vibraphonist Daniel Ciampolini at the Musée d´Orsay. Following the enthusiastic reception of the premiere of his Five Piano Etudes given by Tamara Stefanovich in 2008, the Klavier Festival Ruhr has commissioned new series of piano pieces for its 2009, 2010, 2011 and 2013 seasons performed by Stefanovich and Pierre-Laurent Aimard. Ensemble Modern commissioned Vertices for bassoon and live electronics for its 30th anniversary concert performed by Johannes Schwarz at the Alte Oper Frankfurt in January 2011. Commissioned by the WDR (West German Radio), Nodes (2008) was premiered by the Ensemble Dissonart and an additional work - IDEX - has been commissioned for the Witten Festival in 2011 and performed by the Ensemble Modern under Johannes Kalitzke. In 2012 the Helsinki Chamber Choir and the Ensemble musikFabrik commissioned and premiered Ison for 16 solo voices and Farbenmaschinen for large ensemble. Nicolaou has collaborated also among others with Peter Eötvös, Emilio Pomarico, Beat Furrer, James Wood, Jonathan Stockhammer, Michael Linville, Diego Masson, Jean Deroyer, Kasper de Roo, Moscow Contemporary Music Ensemble, Kreutzer Quartet, Ensemble Ergon, Münster Opera and the New World Symphony Percussion Consort.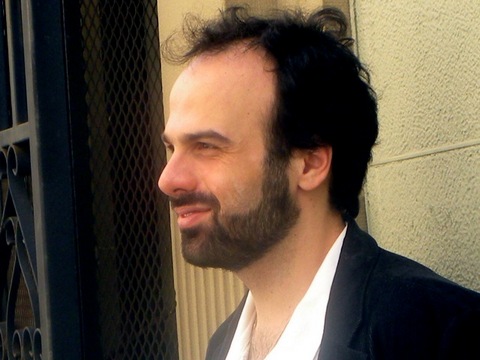 Stratis Minakakis
Stratis Minakakis is a Greek composer and conductor. His compositional interests include memory ancient and modern Greek texts, complex symmetries, and the exploration of language. As a composer, he has collaborated with leading performers and ensembles across Europe, North America and Japan, including conductor Rüdiger Bohn, recorder virtuoso Tosiya Suzuki, Noh performer Ryoko Aoki, the Next Mushroom Promotion ensemble, the PRISM and Stockholm saxophone quartets, the Arditti String Quartet, Ensemble Counter)induction, and Dolce Suono Ensemble. A recipient of numerous academic and artistic awards, he most recently received the 2010 Takefu International Composition Prize in the Takefu International Festival in Japan (Toshio Hosokawa, director) for his work Aggeloi II. As a conductor, he has directed chamber ensembles in performances of early 20th century and contemporary music. He was recently appointed Music Director of NotaRiotous, Boston's premier ensemble specializing in microtonal music. In addition to NotaRiotous, he is also involved with EMMA, a collaborative platform combining research, lectures and performance of electroacoustic, microtonal, multimedia and algorithmic music. Also active in the field of music theory, his recent work focuses on analytical approaches to early Modernism and the music of Xenakis and Ligeti. Stratis Minakakis is a faculty member at the New England Conservatory Music Theory Department in Boston, Massachusetts. He lives in Cambridge with his wife Dolores, daughter Catalina, and cat Amalia.
Noh×Contemporary Music Open Rehearsal
Schedule
3.5 12:00-17:30
3.6 14:00-17:00
3.7 14:00-17:00
*Admission free