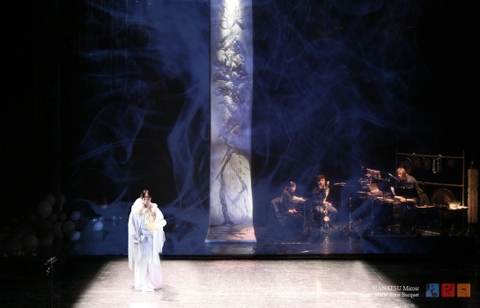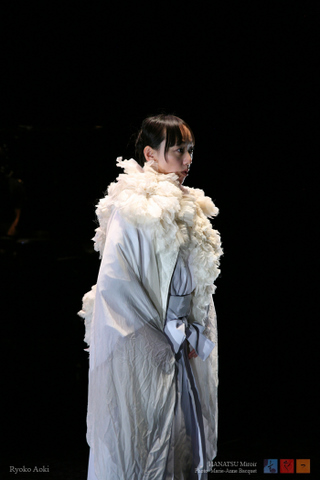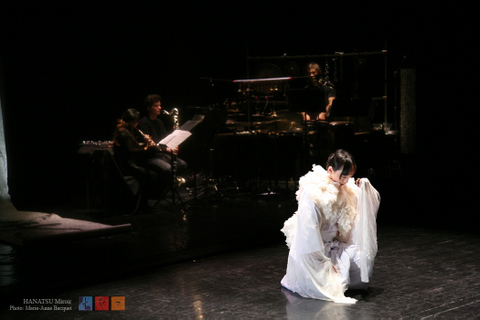 The French artist group, HANATSU miroir will come to Japan from Starsbourg, and on 27th of February I will take part in their performance, "Fil d'eau" as a guest performer.
The programme includes three pieces. I will particularly perform Noh Operetta "Mizu No Wo" composed by the Japanese composer, Hidehiko Hinohara. It was based on the popular Japanese novel and TV drama "Be with You" by Takushi Ichikawa.
Finally, this time we will do Japan premiere of this piece.
--------------------------------------
HANATSU miroir 〜Fil d'eau〜
--Programme--
-Alireza Farhang
New Work(Fl、Percussions)/2012(Japan Premiere)
-Januibe Tejera
L'Utopie de la toupie(Fl、Percussions)/2010(Japan Premiere)
-Hidehiko Hinohara
Noh Operetta "Mizu No Wo" (Noh chanting and dance、Fl、Percussions、Sax)/2011/2012 (Japan Premiere)
Original Text:Takushi Ichikawa "Be with You"(2003: Shogakukan)
Performers:
Ayako Okuboo/Flutes
Olivier Maurel/Percussions
Marie-Anne Bacquet/Senography
Yon Contes/Calligraphy
Ryoko Aoki/Noh
Masanori Oishi/Saxophones
Genta Iwamura・Yasushi Ashibe/Lighting
suzuki takayuki/Costume
2013.2.27 19:00-
Venue:
1-16-25 Takanawa, Minato, Tokyo 108-0074
1st Exit, Shirokane-Takanawa Station (Metro Nanboku Line, Mita Line)
Ticket:
(Advance Ticket)¥2,500(Today's Ticket)¥3,000
Booking Tickets:
presented by HANATSUmiroir
in collaboration with Kiss Port Foundation
supported by Asahi Beer Arts Foundation, Rohm Music Foundation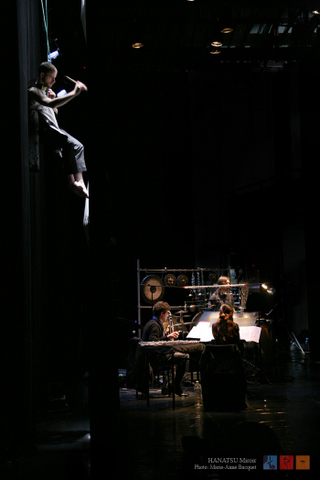 HANATSU miroir
This is the trailor of the premiere of "Mizu No Wo" in Strasbourg in 2011. Please enjoy!!