Lecture & Concert "Music of Paola Livorsi"
2013/3/24 14:00-15:30
Aichi Prefectural University of Fine Arts and Music
Paola Livorsi: "Dream light, Shadow stone" for noh performer and basset horn
Ryoko Aoki(Noh voice)Takashi Yamane(basset horn)
Paola Livorsi: "Nottetempo" for piano
Kumi Uchimoto(piano)
Paola Livorsi: "Eâ" for flute and piano
Satoko Tange(flute)、Kumi Uchimoto(piano)
Pehr Henrik Nordgren: Yuki-onna form "10 Balladen after Japanese spirit stories or Kwaidan Balladen"
Kumi Uchimoto(piano)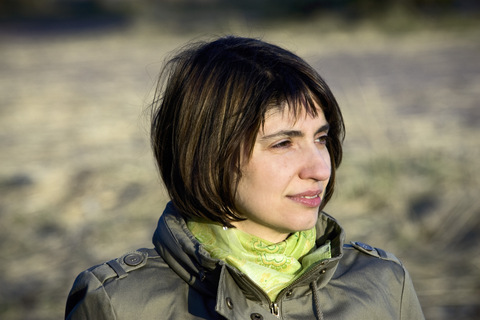 Paola Livorsi
Paola Livorsi, born in Alessandria (Italy), lives and works in Helsinki since 2001. After the BA from the University of Turin and the diplome in composition, she followed the computer music classes of Philippe Manoury at the Conservatory of Lyon. She attended masterclasses at the Siena Chigiana Academy with Franco Donatoni, in Novara with György Ligeti, in Paris at IRCAM (1999-01). In 1997 she studied at the Sibelius Academy in Helsinki with Kaija Saariaho and Jean-Baptiste Barrière. In 1999-2001 She attended the computer music courses in Paris at CCMIX and IRCAM. Music by Livorsi has been performed in Paris Agora, Helsinki Musica Nova, Saarbrücken, Takefu (2004-05), Berlin März Musik, Venice Biennale, Turin De Sono and Milano Musica. She collaborated with Klangforum Wien, Arditti Quartet, DSO Orchestra, Quatuor Diotima and Helsinki Chamber Choir. She was invited by Toshio Hosokawa to Takefu, Berlin and Banna Foundation. She is interested in exchange with other arts, as in the projects « Rooms of Elements » (Northern textile art exhibition « 1 : infinite », Helsinki, Trondheim, Reykjavik 2006-07) and « Self-portraits, silent voices » (Silvia Reichenbach photography, Saila Susiluoto prose poems, 2011-12). She is a member of the experimental art gallery MUU (www.muu.fi) and of the artists group Catalysti (www.catalysti.net). Collaborates with the Aalto University Media Lab and the Sibelius Academy. Her work has been acknowledged by the Finnish Cultural Foundation and the Arts Council of Finland. She is a member of the Society of Finnish Composers and correspondent from abroad for the Italian magazine « Il Giornale della Musica ».