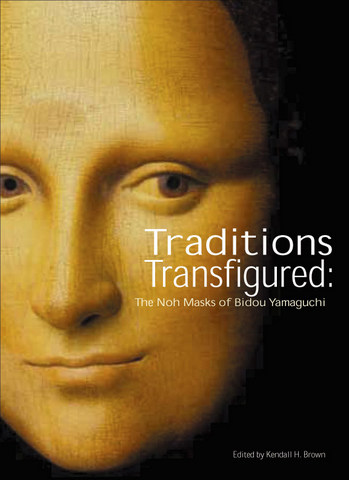 I went to West Coast in US in February.
In related with this exhibition, the Earl Burns Miller Japanese Garden at CSULB host my lecture and performance "Noh×Contemporary Music".
The Earl Burns Miller Japanese Garden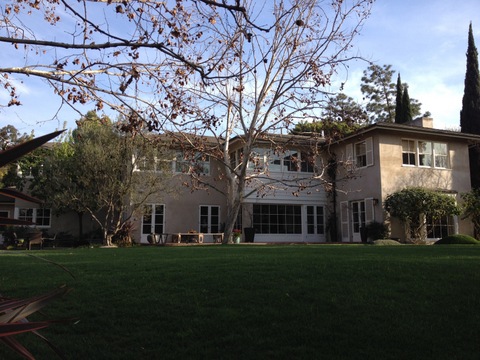 I stayed at Mr & Mrs McLeod's wonderful guest house. They are also collectors of Bidou Yamaguchi's works.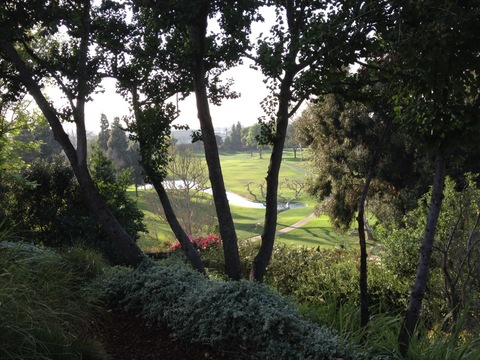 We can see the golf course from the garden!
This is their guest house which I stayed.

I also gave a Noh workshop for CSULB students under head of performance Hugh O'Gorman on 20 Februrary.
On 23 February, I gave a lecture and performed together with John Barcellona, CSULB's Cole Conservatory director of woodwind studies and professor of flute at the Daniel Recital Hall.
David Recital Hall
"Noh×Contemporary Music"
2014/2/23 14:00-16:00
Daniel Recital Hall, California State University, Long Beach
Lecture & Performance
・Joji Yuasa "Maibataraki Ⅱ" (1987) for alto flute with Noh dance
・Federico Gardella "Voice of Wind" (2012) for Noh voice and bass flute
・Valerio Sannicandro "trois chants Noh" (2011) for Noh voice and flutes
Ryoko Aoki (Lecture & Noh performance) John Barcellona (Flutes)
At the reception after the performance.
From left, the director of Earl Burns Miller Japanese Garden, Jeanette Schelin, the flutist, Prof. John Barcellona, the curator of Bidou Yamaguchi, Prof. Kendall Brown.
After that, I went to LA and stayed at the house of Yasuhisa Toyota, the acoustician of the Walt Disney Concert Hall and amongst other famous halls.

Walt Disney Concert Hall
With Yasuhisa Toyota
I attend the rehearsal and performance of Simón Bolívar Symphony Orchestra of Venezuela under Gustavo Dudamel!!
I had a lot of wonderful memory in Long Beach and LA! If I have a chance, I would like to come back!!